By: Cristina N. Hyde, JD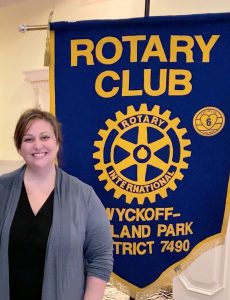 Campanella Law Office is proud to announce that Gina L. Campanella, Esq., FACHE was installed today as a member of the Wyckoff-Midland Park Rotary Club.
The first chapter of Rotary Club was established in 1905 with the intention to create an environment where professionals with diverse backgrounds could exchange ideas and form meaningful connections.  Then, over time, as the ability of the group to effect change became evident, both the reach and the mission of Rotary grew; expanding internationally with an overall mission of humanitarian service.
The Wyckoff-Midland Park (WMP) Chapter was chartered in 1959 and is an association of members living or working in Wyckoff, Midland Park, or other surrounding towns in Bergen County, New Jersey.  Upholding the core value of "service over self" for more than six decades, some of the ways the WMP Chapter supports the local community include fundraising and financial support for local charities, student scholarships, and improvement projects.  The WMP Chapter also lends its leadership expertise to global issues through programs such as "Gift of Life" program and "Nigeria Water Project".
The WMP Chapter also provides opportunities for local youth to get involved through  youth programs and clubs.  These are the very same programs that introduced Ms. Campanella to service when she was a student at Eisenhower Middle School and attending Ramapo High School.  It seemed only natural for her to continue contributing to her community after establishing Campanella Law Office in her hometown.
Ms. Campanella has been attending WMP Chapter meetings since April 2021 and has enjoyed collaborating with the members to affect positive change.  We are so proud of her and Campanella Law Office is happy to celebrate her formal installation as an official Rotarian today!