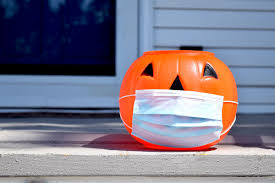 By: Cristina N. Hyde, JD
Halloween is fast approaching and around our office, we are of the opinion that the best holidays begin with the best preparations.  With that said, anyone who intends to invite trick-or-treaters onto their property, needs to understand that they have a duty to maintain their premises in a reasonably safe condition or risk being liable for sad little Casper's injury.
Here are some tips for avoiding liability this year:
Keep your yard and walkways well-lit.
Address potential slippery areas. Shovel snow and apply salt where necessary.
Check walkways and yard for tripping hazards and warn guests of any unsafe conditions that cannot be removed or remedied.
Leave your dog inside. Even the most playful pet can become overwhelmed and aggressive on Halloween.
Be careful with decorations that might obstruct vision such as strobe lights or fog machines.
Also, please remember that we are still living within the context of a global pandemic.  Keep yourself and your guests safe from COVID-19 by wearing a mask and reviewing all of the guidelines outlined by the Centers for Disease Control and Protection for Halloween this year.
To learn more or discuss a potential lawsuit, contact us.
Happy Halloween!